The mister and I celebrated our first Valentine's Day with a lovely picnic in the mountains. We sat in the middle of the clouds with a slight drizzle. It was magical.
Our first Valentine's Day: 2009
This year we didn't do anything apart from chores before the mister went to work where they're having a big Valentine's Day dinner. The mister received a disgustingly soppy text message from me and he'd planned a big adventure day for us before he realised we couldn't do it, damn pregnancy!
People think it's odd that we don't give gifts to each other every time we are 'supposed' to, like V Day, anniversaries, birthdays and Christmas. We just don't feel the need to show our love through gifts. I know he loves me when I'm sick in bed and he's doing the housework. He knows I love him when I clean for him or let him sleep in. We know what is special to each other and we do it as often as we can.
We are the couple that possibly says 'I love you' too much but it's always heartfelt. I find it impossible to sit on the couch without touching him in some way (usually my legs over his). We are affectionate when we aren't jokingly bickering.
What do I love most about the mister?
He's thoughtful, loyal, works damn hard for his family, he's caring, kind, puts up with my shit and doesn't complain when I'm stuck in bed and the house is a pigsty. He loves us with all his heart and we know it. He is so humble though, I don't think he realises how much he actually does.
What do I love most about me?
My body has produced one beautiful child and is in the process of producing another child. To be able to give the mister and our families that gift is definitely something that I cherish. I also love the way that lufflump and the mister love me. For them to love me the way they do, I have to be doing something right!
V Day 2012
I'm linking up with the amazing Glow from
Where's My Glow?
who came up with the brilliant idea of posting what we love about ourselves. Some amazing bloggers have
joined in
too.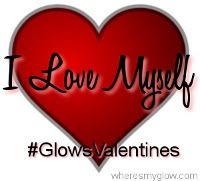 What do you love most about yourself?